SoftPI Flow Collector provides:
an analysis of your network at any given time under Windows computer,
an identification of devices that receive or transmit the most traffic in the network,
determining the structure of network traffic,
an analysis of IPv4 and IPv6 traffic,
receiving and processing information about network activities using a variety of network protocols (NetFlow, Rflow, IPFIX),
determining a specific IP address belonging a particular network device,
a great flexibility in the choice of a storage type for network traffic information and tools for its processing.
Editions
Flow Collector has two editions:
SoftPI Flow Collector Standard;
SoftPI Flow Colector Lite - a free edition.
Differences between these editions are described here.
What do you need to collect network statistic?
Network devices (routers, switches, access points etc), which can generate information about network traffic using NetFlow versions 5 or 9, RFlow or IPFIX.
Servers or computers, independently of operation system, with installed on them network sensors (probes). For Windows, we recommend you use the fSonar (SoftPI).
SoftPI Flow Collector (or SoftPI Flow Collector Lite).
Features in total
SoftPI Flow Collector system provides for the collection of information on network flows using NetFlow versions 5 or 9 (Cisco Systems), RFlow and IPFIX (RFC 5101, 5102), as well as a flexible aggregation of collected data with storing theirs in a storage of one of types:
Microsoft SQL database (2014, 2012, 2008, 2005, or 2000),
MySQL database,
text file.
System works under Windows 8.1/8/7/Vista/XP, Windows Server 2012/2008/2003 (Microsoft).
The sources of network flows in NetFlow, IPFIX, or RFlow formats can be: routers, wireless access points, switches and other network devices, as well as computers running any operating system with software network sensors.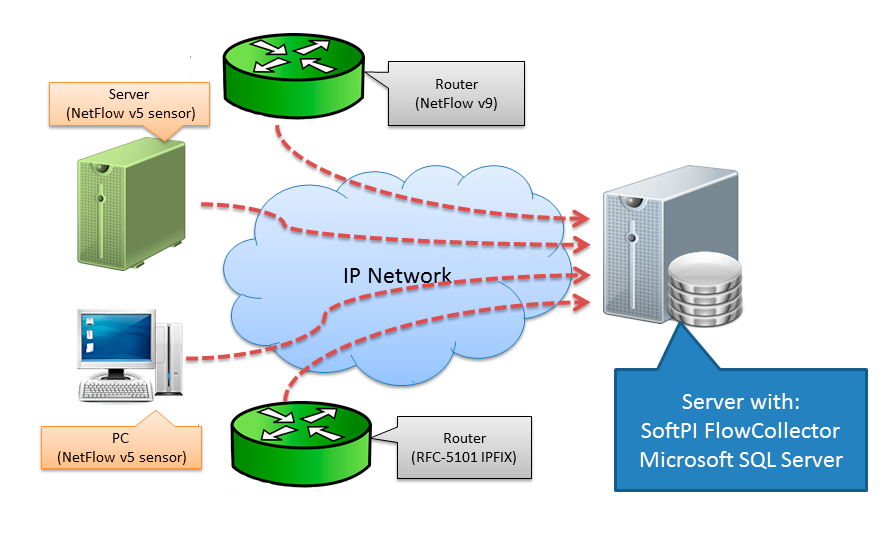 Main Features
Supported formats and protocols:
SoftPI NetFlow Collector supports collection and parsing of the following network protocols:
NetFlow version 5;
NetFlow version 9;
RFlow;
IPFIX.
All fields of these protocols are supported. User can select only the required fields to preserve in a storage.


Flexible aggregation and storage
SoftPI Flow Collector provides configuration of:

Custom list of fields which are stored.
Custom list of fields for aggregation.
Custom list of IP addresses of devices which are sources of network traffic data.
Separate log for each devices that work as sources of NetFlow, IPFIX, or RFlow.
The possibility to collect data over multiple IP ports.

Supported types of storages
The system provides the following types of storages:
text file,
Microsoft SQL Server 2014/2012/2008/2005/2000,
MySQL server.

GUI to make configuration
Сonfiguration of SoftPI Flow Collector is performed in easy-to-use graphic interface.
No restrictions on the number of network devices
SoftPI Flow Collector has no restrictions on the number of network devices from which it can collect information. Restrictions may arise only due to insufficient computer resources.
Processing of information about network traffic
Possibility of forming reports on network activity is built in SoftPI Flow Collector. This possibility may be available if the user uses Microsoft SQL Server 2014/2012/2008 R2 as a storage and uses a set of fields which is similar to a set of fields of NetFlow version 5.

User can edit available reports using Microsoft SQL Server Reporting Services Report Builder 3.0, or create your own. Reports, that are a part of the system, or your reports can be accessed through the custom Web-site using SQL Server Reporting Services (SSRS).

More information about the reports included in the Flow Collector is available here.
An example of one of these reports is shown in the figure below.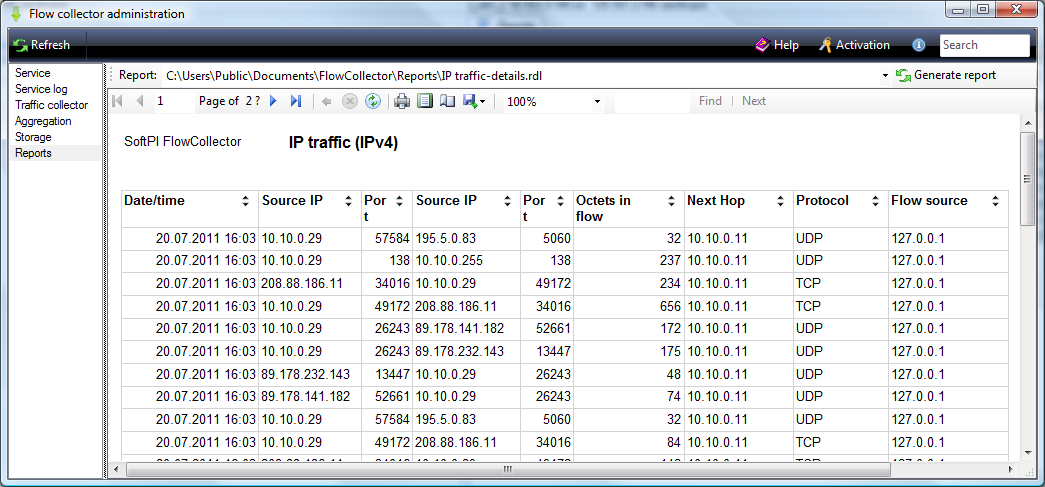 Software components
The system contains the following components:
SoftPI Flow Collector - a flow collector service;
Flow collector administration program. The program provides a graphic interface to configure the Collector parameters, as well as allows to run and stop the Flow Collector service.
Built-in reporting system with reports. Reporting system is based on Microsoft Reporting technology.
Download
You can download a trial version and documentation from the site. To download SoftPI Flow Collector you should register on the site.
How to buy?
You can buy SoftPI Flow Collector from our site or contact to our Partners.