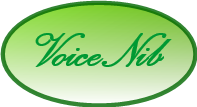 SoftPI company is pleased to announce the release of a new version of VoIP call recording system, VoiceNib 2.1.
The Ukrainian language support was added in this version, as well as some bugs fixed. In particular, fixed an error when playing long conversations. Also fixed the error in displaying the duration of the call in the recorded calls table if its value of duration was more than 1 minute. A number of minor corrections have been made.
If you are not yet a VoiceNib user, but want to test it, do it now! VoiceNib 2.1 is available for download.
The licensing and prices for version 2.1 have not changed compared to the previous version.